Benefits of Radley Hardware Solutions
Smooth Integration with your Workflows
Total Solution Provider: Software, Hardware, Consultation, Training & Support
Upgrades or New Hardware Installations
Hardware Solutions for Many Environments
Barcode Scanners & Devices


Rugged, Tethered or Wireless, Scanners & Mobile Computer, Vehicle Mount, Intrinsically Safe
Barcode data collection using the latest barcode scanners, printers, mobile computers improves productivity. First, easily collect data in your operations through barcode scanning. Then communicate with your back-end business system(s). Finally, combine your new hardware with Radley software to further boost performance. Enjoy total visibility with real-time inventory control.
Radley Offers the Latest Hardware Technology, Including:
CK75 Handheld Mobile Computer
MP Compact Mobile Computer
Xenon 1902 B Free Scanner
AutoCube 8200 Fixed Dimensioning System
MC3300 Mobile Computer
TC8000 Touch Mobile Computer
ET50/ET55 Tablet Series
ZT200 Series Industrial Printers
How to Choose the Right Barcode Scanner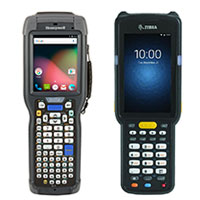 Radley Software on Hardware Devices
Streamline warehouse operations with the latest hardware technology paired with Radley software. For instance, you can simplify shipping & receiving. And, with software and hardware from Radley, you have one vendor for training or support.
Benefits of Purchasing Hardware Through Radley
One vendor contact for support, training
Smooth Integration with your Workflows
Upgrades or New Hardware Installations
Hardware Solutions for Many Environments
Barcode Printers


Industrial, Desktop, Mobile Devices, Wireless, Printer Software
Streamline your labeling process and end manual efforts and data errors. For example, mobile printers, desktop and industrial options are all great options! Radley's consultants can help find the right solution for your barcode printing needs. And, with Radley, you get reliable performance at a competitive price.
Radley Software Integration
Radley's integrated labeling solution provides many benefits. First, you can automatically print customer specific shipping labels. Next, ensure compliance to all-important traceability requirements. Finally, you can achieve all this with flexible label formatting. Radley is your one-stop, total solution provider. So ask us about solutions for software, hardware, consultation, training and support.
Radley is your total solution provider with consultation, software, hardware and in-house support.
Selecting a Printer can Depend on a Number of Factors
How many labels need to be printed?
Do you require a thermal or direct transfer printer?
Will the printer connect to a network?
Do you have security limitations and requirements?
Labels & Tags Hardware


Direct/Thermal Transfer, Paint Resistant, Custom Sizes, High/Low Temp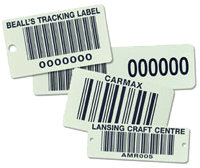 Do you need to comply with industry labeling regulations? Radley can help! First, install the latest bar code label and RFID tag technology. The right solution from Radley can meet nearly any regulation. Then we'll find the right label size and type to fit your unique process.
Design custom labels specific to your process. First, integrate Radley barcode software to Loftware and Bartender software and a label printer. Then automate printing and labeling.
Beyond meeting your labeling needs, Radley is your total solution provider. So you can have one vendor to contact for your training, troubleshooting and support issues. For instance, we supply Honeywell and Zebra barcode scanners and printers to complete your process. Contact us for a Free Quote today.
Utilize Multiple Types of Labels and Tags
Data Collection
Inventory Control
Asset Tracking
RFID Tags & Barcode Labels
Not Sure if You Need Barcode, RFID, Asset or Pre-Printed Labels and Tags?
RFID


Portals, Fixed & Handheld Readers, Tags, Smart Labels, Antennas
Complete Tracking Solution
Radley helps you select and install the best RFID tags, portals and antenna for your needs. So you can choose from leading brands including SLS RFID, Honeywell, Zebra and more to meet your needs.
RFID can let you track assets like inventory, tools and equipment. But RFID is more than hardware! Most importantly, without RFID software, or middleware, you're just scanning tags. But Radley's RFID inventory and asset tracking software collects the key data you need. So to learn if RFID can benefit you, enjoy a free consultation today from our expert consultants.
Free Consultation
Product Demonstration
On-site Inspection
Review Hardware
Middleware is software that connects your existing business system with RFID hardware components. And, besides connecting devices, it allows users to collect and manipulate data.
Honeywell


Shop Honeywell Intermec

Radley is a Honeywell Platinum Performance Partner. This allows us to provide Honeywell barcode printers and scanners worldwide.
The products below are a sampling of the latest technology from Honeywell Intermec. Contact us to discuss your specific hardware needs and requirements.
Buying the best hardware is just the first step! After that, Radley's platform of productivity software can integrate smoothly into your workflows. As a result, you'll gain true visibility into your data.
Honeywell Intermec CK75 Handheld Mobile Computer
A true no-compromise solution! The CK75 handheld computer is smaller and lighter than others in its ultra-rugged class. Also, it is ideal for warehouse and distribution environments. And it boasts premium, industrial-grade materials. As a result, you'll enjoy the perfect balance of ruggedness and duty cycle. Watch the video. (Ultra ruggedized mobile computer)
Honeywell WP Compact Mobile Printer
The MP Compact Mobile printer provides label-printing solutions that offer big customer benefits. First, because of their small size. Next, an integrated DC connection allows easy mounting to any mobile cart or forklift. As a result, it supports any orientation, including upside down.
Honeywell Intermec Xenon 1902 Batter-Free Scanner
The Honeywell Xenon™ 1902 barcode scanner powered by super-capacitors eliminates the battery. So this makes for a green, environmentally friendly scanner. And this powerhouse solution is capable of scanning over 450 barcodes on a single charge. Also, recharging takes less than 60 seconds via a powered USB port.
Honeywell AutoCube 8200 Fixed Dimensioning System
Honeywell AutoCube™ 8200 is a fixed dimensioning system. Also, it enables customers to optimize space in many use cases, quickly and effectively.
Zebra


Solutions from Zebra Technologies

The products below are a sampling of the latest technology from Zebra Technologies. Choose from the latest barcode printers and scanners, mobile computers and devices. Contact us to discuss your specific hardware needs and requirements.
Buying the best hardware is just the first step! Next, Radley's platform of productivity software integrates smoothly into your workflows. As a result, you'll gain true visibility into your data.
Talk to a Product Specialist to learn how Radley can help you.