Supports GS1 standards for scanning & labeling
Allows co-mingled lot tracking, serialized containers, individual part and direct part marking
Chain of custody, product pedigree management
Flexible workflows, configured to your unique process
Real-time access to full bi-directional tracking
Multiple data capture options
Food Manufacturer Overcomes ERP Limitations


Barcode Traceability from Radley
Radley's food traceability software provides visibility throughout the manufacturing process. Configure to your unique manufacturing type, industry and specific process.
Powered by our trademarked IntelliLabel technology, Radley's traceability solution gives you full process visibility. Use as a stand-alone solution or integrate to compliment your existing back-end system.
Also ensure food and beverage regulation compliance. Track key data from receiving through manufacturing, to warehousing and customer delivery.
Build your traceability record using RFID, barcode scanning and/or machine integration. Easily collect, track and store unlimited data attributes from throughout your supply chain. Then, drill down into and report against the data using our robust database.
Key Data At Your Fingertips
Capture unlimited properties: lot, supplier, expiration, sample/quality, weight and transit time
Build Traceability records using RFID, barcode scanning & machine integration
Collect & query data in a robust database
Configure to your manufacturing type, industry & process
Use as stand-alone solution, or integrate with your ERP
Traceability - Sourcing the Data
Food Traceability Software Solutions
Use Radley as a stand-alone solution. Or integrate to compliment your existing ERP system. Request your free demo with a product specialist to get started.
Learn More about Food Traceability Software
Software can address many issues facing food manufacturers. Click the article below to learn more. Or check out Radley's blog for the latest articles on warehousing and manufacturing.
Why Traceability is Important in Manufacturing
Today it's almost impossible to talk about manufacturing without mentioning traceability. More and more, companies face regulations that mandate it. Implementing traceability software has become part of their supply chain management strategy.
This is especially true of the pharmaceutical and food industries. In particular, traceability software plays an integral part of meeting these compliance demands.
Above all, it lets manufacturers track and trace product and ingredients through production. For example, manufacturers can use traceability data to identify the source of ingredients in the food supply chain.
Also, an effective traceability system helps manufacturers ensure their products are safe. In essence, the software proves authenticity and quality control in manufacturing.
Another benefit to manufacturers is the role the software plays in recalls. Traceability increases visibility for improved supply chain management.
Also, it also allows manufacturers to track manufacturing progress on the shop floor. If product is defective, companies can investigate the source of the problem. For example, the software could identify specific lines or batches in question.
As a result, they can issue a food safety recall for the effected food products. A timely and efficient recall can reduce risk to both the manufacturer and the consumer.
A successful recall aides in restoring customer trust. Additionally, it could build confidence that the manufacturer produces quality food.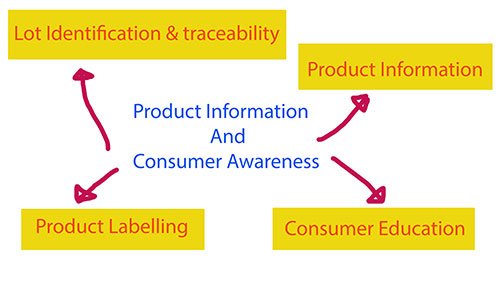 Furthermore, traceability helps organizations in operations management. Visibility to key data elements makes it easier to improve manufacturing processes.
For instance, your business can identify weak elements in your production systems. In turn, this can pave the way for continuous improvement.
A company can tighten internal controls and reduce the risks of product defects. And product quality can improve as well.
For example, traceability solutions help identify deviations from customer expectations, specs, or standards. Also, you can track the source of raw materials, ensuring safety management.
Likewise, companies can ensure ingredients are not counterfeits. All this functionality applies to inventory management as well. For instance, companies can prevent adding defective products to their inventory stock.
Manufacturing ERP software can sometimes lack needed functionality. So, adding an integrated traceability solution can fill the gaps to boost productivity.
Get started with the best traceability software for food manufacturing. We've been helping manufacturing companies automate processes for over 45 years! Contact us today for your free demo.
How Else Can Radley Help You?