Reduce waste, pilferage and damage to returnable assets. Track and trace single components, returnables (RTIs) and tools through real-time data on a user-friendly dashboard.
Implement as stand-alone or integrate to an ERP
Use barcoding or RFID data capture
Configure to your workflows, industry & requirements
Schedule replacement
Do Returnables Effect Your Business?
Reusable Transport Items include containers, pallets, totes and cages. These returnables are an essential part in the flow of materials and products. Radley's bar code software and RFID technology closes the gap in your tracking processes.
Configurable User Dashboard
Full Asset History
Automated Alerts
Reporting & Analysis
Preventative Maintenance
Search & Query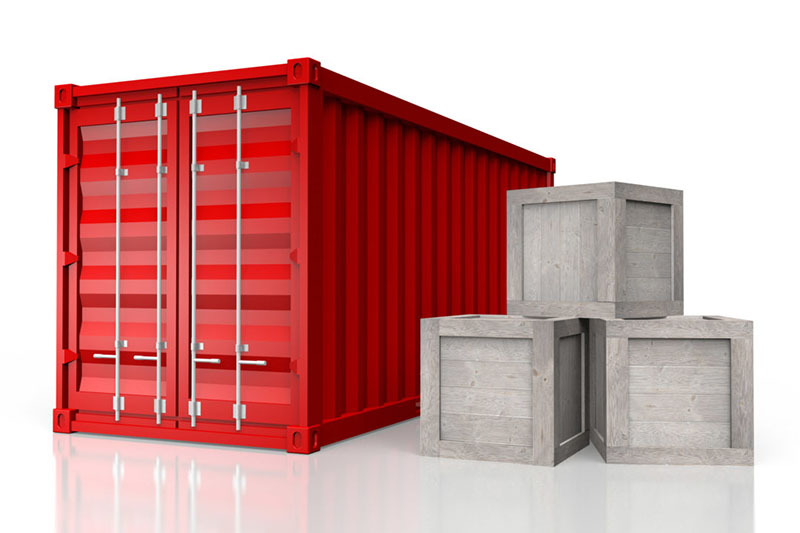 It may seem complicated to develop a system for tracking, valuing, and reusing returnables through shipping lines. However, container tracking technology can make the job easier. Find out more in Radley's blog.
5 Reasons You Need Container Tracking Software
As the manager of a company, you know that it's time consuming to manually track your containers. More importantly, it is easy to make mistakes. That's why it is important for you to use software to automate tracking your assets. This will give you the opportunity to focus your time on more important matters. Here are five benefits of adding RTI tracking software to your business.
Gain Real-Time Visibility to Your Assets
Tracking your fixed assets with spreadsheets and paper is error-prone and time consuming. Radley's asset tracking software makes it easy to streamline this process. Keep track of your equipment, tools and more within manufacturing and distribution operations.
Gain control over your fixed assets with RFID or bar code scanning. Manage and control critical assets from a single component to returnables and tools. Use as a stand-alone solution or integrate to your ERP/business system.
Reduce Waste, Pilferage And Damage
Eliminate Manual Tracking Processes To Save Time & Costs
Meet Government, Customer & Industry Requirements
Easy to Use Asset Management Solution
Radley technology is configurable to meet your specific processes, workflows and industry requirements. Our easy-to-use asset management software tracks all your assets with real-time reporting.
Complete your solution with the latest Honeywell or Zebra mobile devices. Incorporate mobile computers, barcode scanners or RFID tags for data collection.
Monitor Inventory Levels
Track Warranty Dates & Maintenance Schedules
Change field names to match your unique process
Track Acquisition Method, Cost & Value
Maintain Customer & Supplier Information
Log Damage and Asset Condition
Manage Expiration
Analyze Use, Lifecycle & Time Idle
Perform Spot & Cycle Counting
Track and manage assets using one tool. Maintain visibility, from location tracking to maintenance requirements.
Receive orders, issues and moves
Check in / check out assets
Take physical inventory counts
Perform maintenance tasks
Upload images and documents
Manage life cycle
Create and share custom reports
Configure to meet your specific asset tracking and management requirements. Supplement an existing system or introduce a comprehensive Asset Tracking solution. Let our expertise in barcode scanning, labels and RFID technology make your job easier. Radley's asset tracking tool provides a more simplified and efficient process.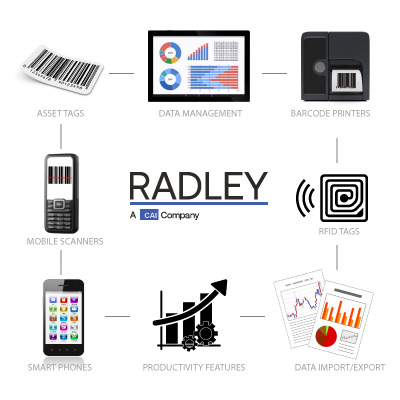 Real-Time Asset Reporting
Radley Asset Tracking system is a scalable, flexible, cost-effective software solution. Improve your ability to track an asset's location and check its life cycle and value. As a result, you can make informed decisions about purchases, allocation and disposal.
Real-time asset information: location, ownership, financial records, status, manufacturer details, image
Increased visibility, control and accountability
Proactive tracking: receive notifications on warranty renewals, maintenance tasks, over-due check outs
Elimination of manual efforts and human error
Reduce costs: reallocation of assets, free up resources, equipment use
Account for non-returned, lost, misplaced or damaged assets
Talk to a Product Specialist to learn how Radley can help you.
Learn More about Asset Tracking Software
Check out Radley's blog for the latest articles on warehousing and manufacturing.