History of Warehouse Management Systems
First, the 1970's saw the rise of computers. With them came automated warehouse storage and retrieval systems. This allowed companies to generate broad reports of warehouse inventory levels. The data focused on tracking pallets of inventory, rather than individual pieces. Yet, these systems did little to address the need to trim inventory levels to control costs.
Then, with the 1980's came the phase out of AR/RS systems in favor of managing inventory in smaller batches. The 80's also saw affordable bar coding and RFID technology. This resulted in real-time data collection. Over the following two decades, warehouse managers focused on reducing costs. They lowered inventory levels and gained control over individual movements in facilities.
Finally, warehouse in the new century have embraced new waves of technology. Robotics, cloud computing and the Internet of Things are leading the way. Likewise, some WMS systems have expanded to include a range of functionality. Systems now include demand planning, labor management, supply chain management and more.
Leveraging these applications allows distribution centers to better manage their entire workflow. As a result, efficiency gains are now possible, both inside and outside the four walls. Thus, from receiving to picking, packing and shipping, WMS has revolutionized supply chain execution.
of U.S. warehouses are efficient
of U.S. warehouses have a WMS
Benefits of a Warehouse Management System (WMS)
So what benefits do modern WMS systems offer? How do they work and what are the keys to a successful implementation?
Less than 30 percent of warehouses are efficient, according to "Benchmarking Warehouse Performance," a study by Georgia Institute of Technology, Atlanta. It's also estimated that about 30 percent of the 600,000 warehouses in the U.S. have a WMS system installed. See a correlation? So let's take these numbers at face value. As many as 70% of warehouses process orders using an inefficient system! Implementing warehouse management software seems like it could remedy this situation.
A good WMS provides many benefits including:
Reduce or eliminate spreadsheets, "tribal knowledge", and manual data entry
Produce detailed reports to track costs
Automate shipping and labeling processes to save labor time and reduce errors
Increase worker efficiency with automated pick-lists and streamlined workflows
Gain complete visibility to inventory stock levels and locations for improved material handling
So what are warehouse management systems and how do they work? A WMS allows a company to control warehouse operations. This includes receiving, through the inventory process and out through shipping. WMS is a software application that provides real-time visibility into inventory levels and locations. It can also include functionality beyond inventory control. Directed picking, labor tracking, kitting (license plating), or product traceability add benefits too.
A WMS can be stand-alone or work with back-end systems. Likewise, some may integrate into an enterprise resource planning system (ERP). Before moving forward with your WMS project, you should consider both options. For instance, dual systems may be counterproductive from a data management standpoint. Hence, extending ERP functionality may be the better option. Learn more in Radley's whitepaper: WMS vs. ERP.
Is a WMS Right for You? WMS vs. ERP
Let's Talk WMS Functionality
Many WMS products include the following features:
An Inventory Management system utilizes data collection systems to control inventory movement. These can include automatic identification data capture (AIDC) bar coding. Another option is radio frequency identification (RFID). The data collection systems work together with specialized scanners and other hardware. This ensures location of goods within the four walls or in many locations.
Directed Picking & Put-Away work management systems bring automation to task assignments. It allows workflow consolidation, reducing wasted time and effort. Warehouse staff use "task interleaving" to complete tasks in a logical sequence. Tasks may include replenishment, put-away, cycle counts and picks. Wave picking allows several pickers in zones throughout the warehouse for order fulfillment. Workers pick and pack items in those zones from an aggregated pick list.
Product Traceability provides full product visibility. Location and status are visible at any point in the process:
Receipt of materials
Inventory
Manufacturing
Assembly and finished goods
Packaging
Warehousing
Shipping and final customer delivery
Labor Tracking lets warehouse managers check workers' performance. They can measure key performance indicators (KPIs) and ensure resources are effectively allocated.
Containerization & Kitting allow serialization or "license plating". This builds part/pallet/container relationships and mixed container tracking. Also, containerization simplifies the number of scans and transactions necessary to track goods. Furthermore, visibility is gained through receipt, movement, WIP and shipment.
Integrated Labeling automates the labeling process. It eliminates manual tasks, simplifies workflows and decreases errors. Also, it ensures compliance to label standards and requirements: GS1, SSCC, GTIN, FDA. Some solutions let you create custom labels or even setup a portal for your suppliers. The portal allows your suppliers to print bar code labels for shipment to you. Plus, your specific label is ALREADY applied.
How Do Warehouse Management Systems Work?
If functionality is the "what" in WMS, data collection is the "how". Tracking goods or materials through your warehouse streamlines fulfillment processes and adds efficiency. This is due to a central system which receives the data for reporting and analysis.
You can achieve data collection in a warehouse through bar coding or RFID systems. Either system drives efficiency, allowing inventory tracking inquiries, automated pick lists and more.
Finally, automated data collection eliminates manual, handwritten labels and time-consuming paperwork. It does this by scanning the critical data, all from mobile computer hardware or RFID portals.
So let's look at the first data collection option: Bar Coding. Dating back to the 1950's, bar codes first gained widespread use in retail environments. Bar coding gained widespread use supermarket checkout systems. Today, configured bar codes can meet industry requirements such as GS1, FDA, or GTIN.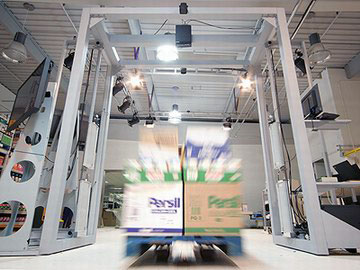 Next, RFID has been around for decades. That said, it's been a victim of misconceptions about how RFID technology works. This led many manufacturers to expect a magical outcome, resulting in disappointment. But RFID was ahead of its time. But today the tags, middleware and antennae have advanced by leaps and bounds. This has made RFID a viable solution. As a result, RFID has now become a contender for companies looking to make a push for a connected supply chain.
RFID: Transformative Technology
So what is a WMS going to cost me you say? Well, like many things, it varies. There are several pricing models including monthly subscription or perpetual license. You might look at these options as rent vs. buy:
The Subscription model like to SaaS (software as a service). It is common with off-site Cloud based warehouse management packages. Payment usually occurs on a monthly basis. Cost varies by how many users or, sometimes, by how many employees your company has.
In contrast, the license model is more traditional. It is mostly used for on-premise systems. Upfront costs for the license model may exceed those of the subscription model. But licensing does allow you to take more ownership of the software.

But this means there may be more responsibility involved too. 'Owned' systems generally need more in the way of manual upgrades, updates and patches. Likewise, licensing may also cost more to customize. Integrations with your other logistics and supply chain systems could also increase costs.
Don't Forget the Hardware!
Hardware costs are pretty straightforward. The number of units you'll need and the type of functionality determines the price. Many hardware types are available including bar code readers, printers, or voice terminals. It may be tempting to get the specs from the software company and buy your hardware online somewhere. But it's no use having a great WMS with shoddy hardware giving you daily headaches.
For this reason, purchasing quality warehouse mobile devices through the WMS provider is a good idea. You'll want to to ensure that your hardware will work with the software solution. Plus, dealing with one vendor makes things easier. As a result, you'll have one contact should you need more training or technical support.
How Much Does a Warehouse Management System Cost?
So, bottom line, give me a number, right? Sorry, there are no shortcuts to evaluating a warehouse management solution. The only real way to know what the RIGHT WMS solution will cost you is to do your homework. Make the phone calls, schedule demos and ask questions!

While it's true you'll want a cost-effective solution, you'll want to base your decision on more than price alone. You need to make sure your selection addresses your operations' needs.

Spend time considering what you want and NEED from a WMS. For example, what are the pain points in your current process? What gaps are there in your ERP? Where are the bottlenecks and inefficiencies? What industry or customer requirements do you need to meet? These are all questions that can help guide you to the right WMS solution for your company.

Once you have a good idea of what functionality you need, reach out to solution providers. Get an overview of what they offer and the pricing they estimate for a solution to your particular needs. Be sure to choose an experienced solution partner. Also request a detailed upfront statement of work (SOW). This, along with a pricing schedule lets you know exactly what they'll be providing. That way, you'll be able to compare "apples to apples" for total cost of ownership.
Find out more about choosing a WMS without blog article:
How to Implement a Warehouse Management System
Configuration. Implementation. In-House Preparation. These are all part of a successful WMS project and will incur their own cost. but a lot will depend on your company's individual needs and the scope of your project. WMS suppliers will charge an hourly rate to configure and install your software. They will take your exact specifications and functionality requirements into consideration.

Furthermore, developers should provide an upfront estimated number of hours for your project. Configuration costs can increase if changes exceed the initial scope of the project. So this is where thorough planning and forethought on your end can prevent excess costs.

Also keep in mind, your new WMS system may require changes to your existing warehouse. Will you need to add Wi-Fi or wiring for hardware charging stations? Is it necessary to rearrange inventory locations, or add labeling? These items may raise the initial investment cost of your system.

Lastly, don't forget any costs associated with on-going support or training. It's a good idea to see if your WMS provider offers a "train the trainer" approach. This allows training of a super-user, or point person for your team. That person is then used as an in-house resource for your team when questions arise. Also, many WMS vendors provide options for supplemental training and technical support.
Conclusion: WMS for Warehousing Success
A warehouse management system provides many benefits. These may include real-time inventory visibility, reduced costs, error-proofing, productivity or efficiency gains. It's true that costs vary from solution to solution depending on your needs. Even so, it's important not to bargain hunt for your WMS solution.
It's important to ask the right questions to define your needs. Then, partnering with an experienced supplier can make a WMS implementation go smoothly. Complex supply chains add to demands on warehouses. So as your company joins the "lean" operations bandwagon, keep one question in mind. Can you afford not to automate your warehouse?